AUS Jumbo
Northpointe Bank's AUS Jumbo program provides financing above standard conforming limits combined with a streamlined underwriting process. Designed for prime credit borrowers, the program leverages automated approval and documentation solutions to help close your loans faster. With loan amounts up to $3,000,000 and loan-to-value ratios up to 80%, we offer affordable solutions for more borrowers.
Program features:
Eligible for purchase, rate/term refinance, and cash-out refinance
Available for 1-2 unit primary residence, 1-unit second homes, and 1-4 unit investment properties
Loan amounts up to $3,000,000
Minimum loan amount of $400,000
Loan-to-value ratios up to 80% for purchase and rate/term refinances
Minimum credit score of 660
Minimum reserves of 6 months
Maximum cash out of $500,000
Restricted stock units are allowed for qualifying income
Available for properties in all 50 states and Washington DC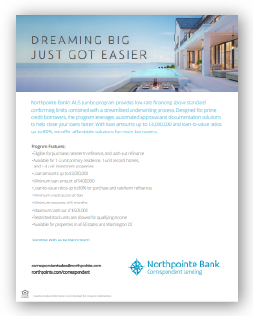 A PDF flyer of this program is
available for download
Download
Looking for marketing materials you can customize? Click here
Investor product information is not intended for consumer distribution.