Investment properties made simple
Northpointe Bank's Investor Cash Flow loan program is built for borrowers, including businesses, seeking financing for investment properties utilizing the rental income to determine cash flow. With loan amounts up to $2,000,000 and loan-to-value ratios up to 80%, we provide affordable solutions for more borrowers.
Program features:
Maximum loan amount of $2,000,000
30-year fixed and 5/6, 7/6 ARM options available
10-year interest-only terms available
Eligible for cash out refinance
Loan-to-value ratios up to 80%
Minimum credit score of 620
Available for limited liability companies (LLC)
Qualification based on cash flow of investment property
Minimum DSCR requirement of 0.75
Non-warrantable condos including condotels are eligible
Available in all 50 states and Washington D.C.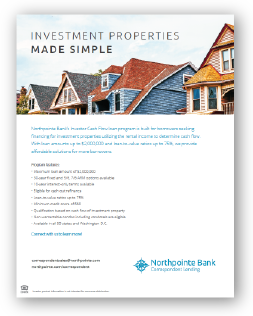 A PDF flyer of this program is
available for download
Download
Looking for marketing materials you can customize? Click here
Investor product information is not intended for consumer distribution.