Medical professionals
Northpointe's Medical Professionals loan program is designed for borrowers who have student loans or limited savings. The program offers no down payment and expanded qualification requirements to help medical professionals qualify to purchase a home.
Eligible borrowers may be currently practicing or will begin employment within 90 days of loan closing.
Northpointe Bank helps you provide affordable solutions to more borrowers so you can enhance your business and the communities you serve. Contact an account executive to learn more.
Features:
Loan amounts up to $850,000
Loan-to-value ratios up to 100%
No mortgage insurance options available
Available for purchase transactions only
Program includes 3/6 ARM, 5/6 ARM and 7/6 ARM options
Available to:
Medical residents
Medical fellows
Medical Doctors (MD)
Doctors of Dental Surgery (DDS)
Doctors of Dental Medicine (DMD)
Doctors of Optometry (OD)
Doctors of Ophthalmology (MD)
Doctors of Osteopathy (DO)
Pharmacists (RPH)*
Chiropractors (DC)*
Doctors of Veterinarian Medicine (DVM)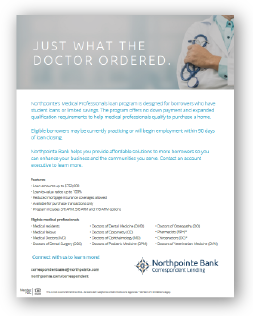 A PDF flyer of this program is
available for download
Download
Looking for marketing materials you can customize? Click here
Investor product information is not intended for consumer distribution. *Certain LTV limita􀆟ons apply.