Non warrantable condo
Northpointe's Non-Warrantable Condo program offers financing options for borrowers interested in newer condo projects, including condotels, that may not meet conventional program requirements.
Reasons a condominium might be considered non warrantable:
Less than 90% of the total units have been conveyed to owners
A single person or entity owns more than 10% of the units
Developments in which more than 20% of units are commercial or mixed use
Project has hotel-like features or is a condotel
Developments that have a higher concentration of renters

All units and common areas are not complete
The development is subject to future phases and construction
The developer has not turned over control of the association to the unit owners
Features:
Primary Residence, Second Home or Investment Property
Loan amounts from $75,000 up to $3,000,000
Fixed rate, adjustable-rate and Interest only options available
Loan-to-value up to 80%
Minimum credit score of 660
Options available to use either borrower income or rental income to qualify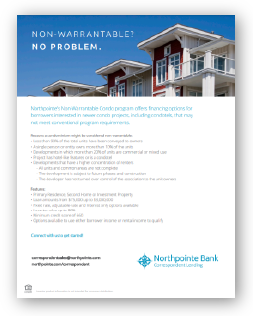 A PDF flyer of this program is
available for download
Download
Looking for marketing materials you can customize? Click here
Investor product information is not intended for consumer distribution.