Expanded qualification terms allows you to reach more borrowers
Northpointe Bank's Prime Non-Agency loan program is designed for prime credit borrowers who fall just outside of agency or prime jumbo eligibility. Guidelines include expanded features like alternative documentation, interest-only and 40-year terms. With loan amounts up to $3,000,000 and loan-to-value ratios up to 90%, we provide more solutions for more borrowers.
Program features:
Purchase and rate/term refinance loan amounts up to $3,000,000
Eligible for cash out refinance, with maximum cash out of $1,500,000
30-year fixed and 5/6, 7/6 ARM, with interest-only options
40-year terms with 10 year interest-only options available
Loan-to-value ratio up to 90% with no mortgage insurance requirement
Minimum credit score of 660
Debt-to-income ratios up to 50%
Eligible for primary homes, second homes, and investment properties
Alt doc options including 12 and 24 month bank statements, asset depletion and 1 year tax returns
Non-warrantable condos eligible
Available in all 50 states and Washington D.C.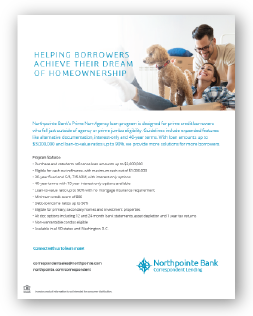 A PDF flyer of this program is
available for download
Download
Looking for marketing materials you can customize? Click here
Investor product information is not intended for consumer distribution.