Go from blah to ah ha!
Help your Realtors® unlock more business by giving their borrowers the opportunity to turn a "blah" house into an "ah-ha!" dream home.
The streamline renovation program is perfect for cosmetic fixes like paint, flooring, cabinets, countertops, or replacement windows. Include up to 15% of the as-completed appraised value in the home loan for renovations.
Program features:
Northpointe purchases the loan when it is closed
Low down payment options
Available on high balance loans
No rate add on
In a seller's market, there is a need to improve the condition of the house
Borrowers keep more cash on hand at closing and upgrade the home to their liking, without an increase in rate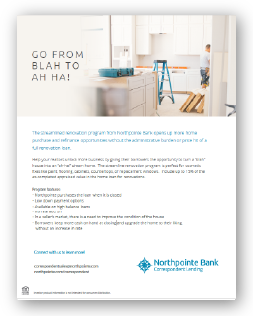 A PDF flyer of this program is
available for download
Download
Looking for marketing materials you can customize? Click here
Investor product information is not intended for consumer distribution.