0% Down WealthBuilder
WealthBuilder helps your clients build their home's value faster, letting them enjoy all the little moments that matter. Rather than borrowers using cash for a down payment, apply it towards a lower interest rate and shorter loan term. The result is more dollars toward their loan principal and builds equity faster.

Features:
Purchase of primary single-family homes and condominiums
Loan amounts up to $975,000
Zero down payment
5/6, 7/6, 10/6 ARM options available
Student loans for Doctors can be removed from the debt-to-income ratio as long as they are deferred for 12 months
Mortgage insurance is lower and can be removed quicker by paying down the principal amount
No occupation restrictions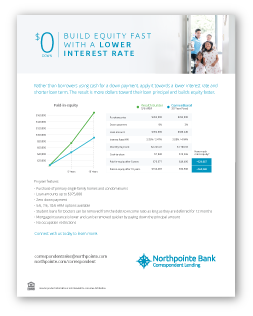 A PDF flyer of this program is
available for download
Download
Looking for marketing materials you can customize? Click here
Investor product information is not intended for consumer distribution.