Home financing & personal banking combined into one simple tool
The All In One loan offered by Northpointe Bank combines a home loan and deposit account allowing you to lower your interest cost over the life of your loan.
Example savings
The example below is based on a $10,000 monthly income with $6,000 in monthly expenses.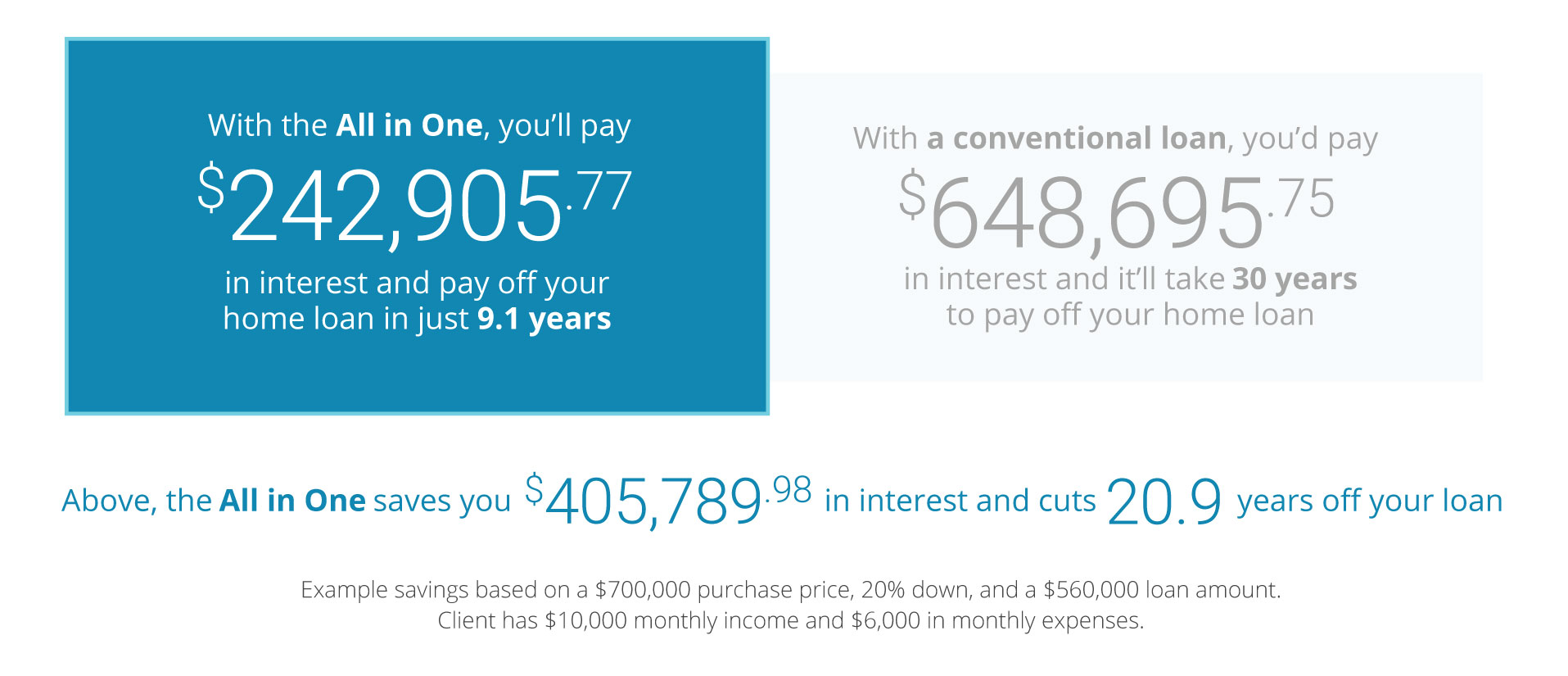 What would I save?
*Results are driven by the starting loan balance, rate, rate environment, deposits, and withdrawal activity. Connect with a Northpointe Loan Advisor for more information. Annual Percentage Rate (APR) as of February 24, 2023, is based on an owner-occupied single-family residence with a credit score of 740, down payment of 20% with tax and insurance escrows. Base APR is quoted and may vary depending on individual credit history and transaction. Payments do not include amounts for taxes and insurance premiums, the actual payment amount will be greater. The 30-year fixed-rate (APR) is 6.050%, based on a note rate of 6.000% with zero points, loan amount of $560,000 and requires 360 monthly principal and interest payments of $3,357. The All In One initial payment on a 30-year 1-month adjustable-rate loan in the amount of $560,000 at an initial note rate of 8.460% with zero points is $6,281.00 principal and interest only payments. The Annual Percentage Rate (APR) is 8.460%. After the first month, your interest rate can change every month and is subject to a lifetime cap of the initial rate plus 6.000%. At the first adjustment, the interest rate cannot decrease below 3.750%. If the interest rate reached the lifetime maximum cap of 14.460% your payment would be $9,081.33. Actual payment amounts will vary after the first month based on changes in the index. All loans are subject to credit review and approval. Rates subject to change without notice. This is not a commitment to lend. Other terms and conditions may apply.
What a great experience. The AIO Loan is a unique and powerful tool that we are so grateful our loan officer helped introduced us to!
Troy A.
Grandville, MI
This was a stress-free process, and they were completely transparent & honest about our options and what the current market was like.
Curtis S.
Providence, RI
Our loan officer and team were superb in the level of service they provided us. They made buying a home the best experience possible.
Michael M.
Colorado Springs, CO
All In One at a glance
All In One is an offset home loan. There's no amortization schedule, interest is calculated nightly based on that days ending balance. Watch the animation below to learn more!
Learn more about the All in One loan today!