Emotions can run wild during a home search, particularly if you are buying your first place. It can be easy to fall in love with the first house you view, overlooking its flaws in favor of its strengths — but this can be a mistake.
These four tips will help you stay objective during your home search, leading with logic instead of emotion.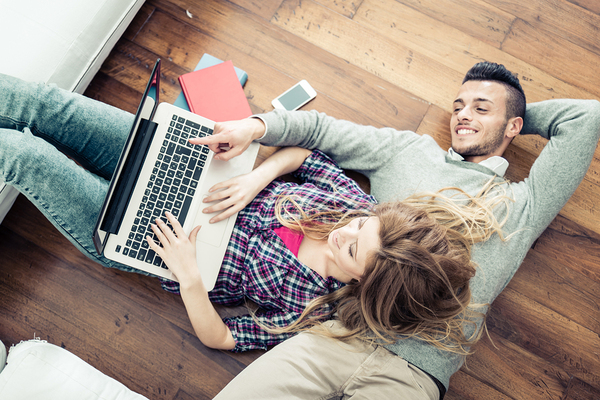 The home search is thrilling, and it can feel like every house is your dream house.
1. Know Where You Stand
If you have decided to take the leap and purchase a home, the best way to start is by surveying your financial picture. Know your credit score, income expectations and stability, and any other debts, and then get preapproved for a mortgage with a lender. Knowing what you can afford before you even start looking at a home will help keep your search on track, and will keep you from making impulsive decisions. Setting a budget based on your preapproval amount — and sticking with it — will also help you stay focused when it comes time to make offers and negotiate.
2. Figure Out What You Need
The line between what you need and what you want can get blurred during the home search, so it is best to prepare in advance. Make a list of what you need in a new home — from closet space to outdoor space to room for a growing family. Then, make a list of everything you want in a new home, meaning the things you could live without. It might be nice to have that bay window you've always dreamed of, but you'll love your new home no matter what.
3. Work With An Agent
When it comes to buying a house you don't need to work with a buyer's agent, but there are plenty of reasons you should. A buyer's agent is your representative in the home buying process — as opposed to the seller's agent, whose interest is in getting the seller the best deal possible. A buyer's agent will help you find the right resources for things like home inspections and attorneys, and will support you during negotiations to protect your best interests. Additionally, a buyer's agent will help you make sure to stick with your list of needs and your budget during your search, keeping you focused on logic, not emotions.
4. View Multiple Properties
It's not uncommon for new home buyers to fall in love with the first house they see, which is why it is essential to see a number of different properties. Not only will this help you understand the market and what is available, but it will also protect you from making a move based on emotions. By seeing multiple properties, when it does come time to make a purchase, you'll feel as though you accurately researched and considered all of your options, leading to even greater satisfaction with your new home.
Get started with a home search based in logic, not emotion, and get preapproved for the best mortgage rates available. Answer a few questions here and a home lending expert will contact you with options for home loans that suit your needs.