A home is one of the biggest, most important purchases you'll ever make. Don't you want helpful, professional guidance from a trusted real estate agent about the buying process?
Choosing the right real estate agent for your home search is crucial, as they will be your support and cheerleader during the times you need it most. These tips will help you get started with finding the right real estate agent to guide you through the home buying process.
Verify Licensure And Experience
An early step in selecting an agent should be verifying that the person you have in mind is licensed and experienced. Each state will have a searchable database of licensed agents, and don't be afraid to ask about the continuing education courses they take, or the areas and property types they specialize in.
Agents who are members of the National Association of Realtors (NAR) have committed to a standard of ethics in practice, and are legally able to refer to themselves as Realtor (with a capital R).
Look At Their History
You can also ask your potential agent to give some names of past clients that you can contact to speak with about their experiences. Ask them what they thought of the process, how long it took, and whether they would work with that person again. A further step is to ask your potential agent for a list of deals they've closed in the last year. This way you can see what kind of differences exist between list price and sale price. You want someone who is working for you, not the seller, and the ultimate sale price can give you some clues as to how aggressive the agent will be during negotiations.
Talk About Communication
You want an agent who will be in constant communication with you during the buying process. Find out how he or she will keep you updated on interesting home listings, including the method and frequency. You don't want an agent who will add you to an email list where you get the same listings that everyone else sees; you need someone who is out there hitting the pavement for your specific needs and who will tailor communication to you, not just a mailing list.
Find Out What Neighborhoods They Know
Agents will typically specialize in certain neighborhoods, particularly in more populated areas. You may have found the highest rated agent online, but if he or she predominantly focuses on luxury sales and you are looking for a starter home, you may not find the support or attention you'll want throughout the process. If you have a general idea of where you want to look, start your agent search for someone who is well-represented there.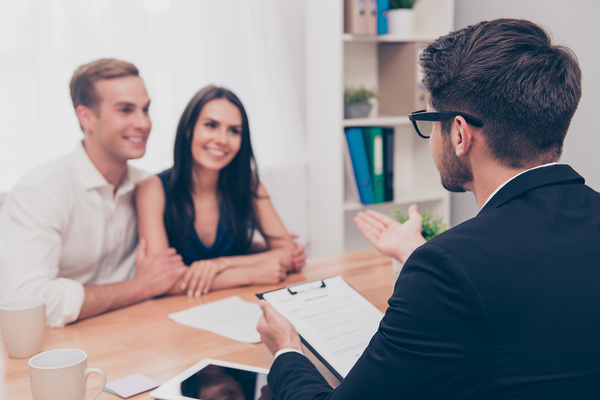 Get to know the areas that agents specialize in and the resources they can provide you with during the buying process.
Ask About Recommendations
Another way to gauge the knowledge level of your potential real estate agent is to ask them about recommendations for necessary services during the process. You should get preapproved for a mortgage early on in the search as it will let you know how much house you can afford and available home loan rates. If an agent can't recommend a local mortgage lender, it's a good sign that they won't be much help when it comes to the inspection, title company, and attorney.
Remember that buying a home can be a long process, so take your time finding the right agent. However, you can get a jump start by looking into your mortgage options so you know what you can afford. Answer a few questions here and a home lending expert will contact you.