For real estate agents, having a healthy pipeline of prospective clients is the key to success — and it's not impossible. A great way to keep your client list full is to tailor advertising and outreach to the particular type of buyer you are looking to work with. First-time buyers are an ideal client base — every homeowner was once a first timer, and if you provide top-notch service, you have a good chance that they'll come back to you in the future. Follow these four tips to start engaging first-time home buyers using targeted marketing campaigns.
1. Target Rental Buildings
Find first-time buyers by advertising your services in and around rental buildings. If there is a large complex or two nearby, see if you can hand out flyers or even mail them to tenants; chances are one of them is considering making their first purchase.
2. Have A Web Presence
Starting out with feet – literally – on the ground will help get your name out there, but in the days when many buyers prefer to start their search online, it's also a good idea to do some outreach on the web. Get connected with Zillow or other property search sites, but also have your own website. It's easy to set up a simple site by yourself, and with some basic SEO, new home buyers will be finding you.
3. Be A Social Media Superstar
The thing with first-time buyers is that they have lots of questions! And they go to social media for answers. If you can position yourself as a helpful voice within the real estate industry, you'll find that first time buyers want to work with someone like you – who knows what they are talking about and is a trusted industry resource.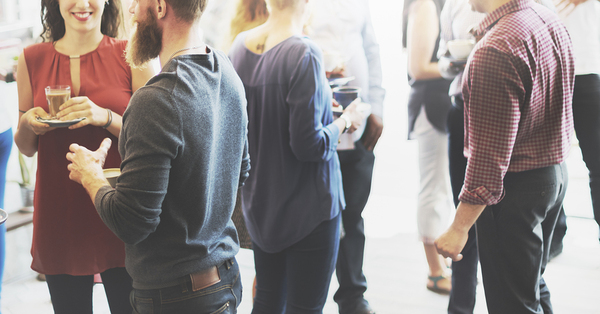 Holding events that brings first time buyers to you is a great way to generate buzz.
4. Bring Them Together
Imagine if you could have a room full of first-time buyers, hanging on your every word. While online marketing will help you get attention, holding an in-person event will convince first-time buyers that you are the person they want to work with. If you have an office in a convenient location, host "open houses" where potential buyers can learn more about your operation — offer wine and cheese or treats and you'll definitely attract a crowd. However, you can also take it to the next level by hosting informational seminar-type events specifically designed to help answer all of the questions your clients may have. Try a first-time home buyer mortgage seminar to familiarize first timers with lending options and loan terms available to them.
Remember, as a real estate agent, repeat clients and recommendations are going to help you keep your income steady for years. This means always providing the best service, and going above and beyond to help home buyers feel confident in your advice and services. Be an active member of your local community, and provide the information that first-time buyers need and you'll find your client list filling up. Recommend that your clients get started by answering a few questions here, and a home lending expert will contact them.