When you're purchasing a home, one of the biggest factors in obtaining financing will be the down payment. It's inescapable, and can be what stands between you and your dream home.
New homebuyers in particular often have a lot of questions about down payments, so we've gathered these tips to help you make your Jacksonville dream house a reality.
How much do I need to save?
Your down payment will be a percentage of your total home price; 10% on a $100,000 loan will be a down payment of $10,000. Down payment requirements will vary depending on loan type, your financial picture, the size of the loan, and a number of other factors. Therefore, since you'll be required to pay this money upon closing, you'll want to be sure you have saved enough to cover it – in addition to other closing costs.
Are there different options available that allow for a smaller down payment?
Luckily, there are government initiatives that assist homeowners with accessing lower down payments. FHA loans are backed, or insured, by the federal government. As a result, they come with terms that are meant to help first-time homebuyers: reduced closing costs and down payments as low as 3.5%. You'll need a credit score higher than 580 to qualify for the lowest down payments.
With an FHA loan, you will also be responsible for paying a monthly insurance premium to the government. The FHA program is designed so that you can access a home easier with a low down payment, and allow your equity and finances to increase over the years, making the premium less of a long-term factor.
The government also offers special loans for certain demographics like veterans, which often require no down payment.
Do I need private mortgage insurance?
Private mortgage insurance, or PMI, is typically required by lenders — it's a way of securing their investment should you default. As with other forms of insurance, you'll take out a policy from an insurance company and pay a monthly premium. Some companies will allow policyholders to pay their premiums in bulk if desired.
However, if you make a down payment of 20% or higher, you won't be required to take out PMI. Instead, the greater upfront amount helps to protect the lender. FHA loans also won't require PMI since insurance is handled by the government.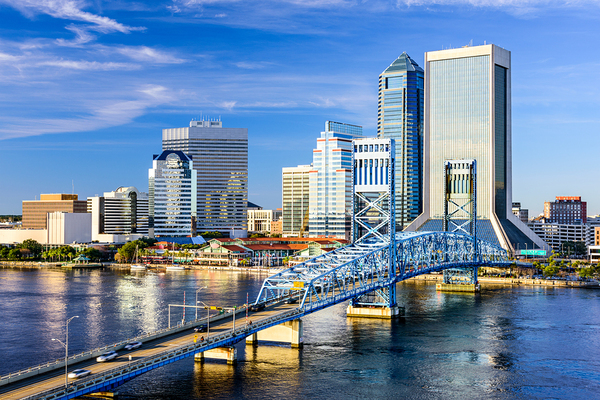 Jacksonville's booming market has made it attractive to people of all ages.
Why would I want to pay more?
Jacksonville's market is performing better than the US average, which means there is a lot of activity. For prudent buyers, this means a chance to obtain financing at lower rates in a growing market, and in some cases, a higher down payment up front may be the smartest choice for financial stability.
One of the largest benefits of putting more than 10% down is that you'll receive better loan terms. While you'll save on PMI if you put down over 20%, just putting down 15% can help you purchase a higher value property at lower rates for longer terms. Particularly for growing families with stable sources of income, this can be the most achievable way to purchase the right home.
If you're ready to find your Jacksonville dream home, contact us today to learn about our different loan options.