Promotion and marketing are two of a real estate agent's biggest responsibilities and are often left to each agent to develop and execute.
A real estate blog is an excellent tool that you can use to bring in new customers, share advice and knowledge, and become an expert agent in your immediate area. Business blogs have become one of the most effective ways that companies draw traffic to their websites, so if you have been wondering if you should start a real estate blog, now is the time to act.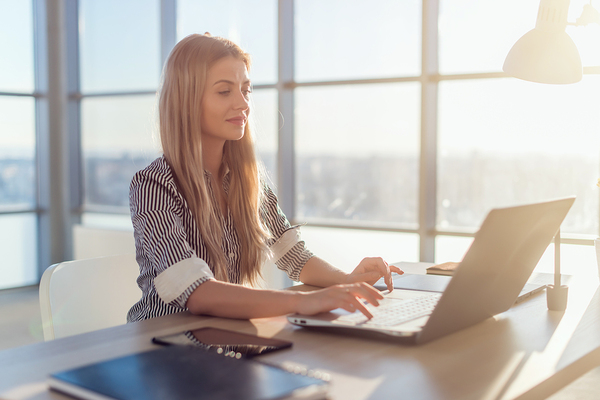 A real estate blog will help share your knowledge with potential buyers and sellers.
How To Get Started
You don't have to learn code or be tech-savvy to start a blog. If you already have a website (which all real estate agents should have in 2016), you'll just need to add an additional page for your blog. If you don't have a website, get set up quickly with an existing blog program like WordPress. Don't worry so much about design and aesthetics at first; as you learn, you'll be able to tailor things more to your preferences.
What Should You Write?
There are a few key principles to keep in mind when you start blogging — know who your audience is, know what you are talking about, and have your content be as helpful as possible. For real estate agents, your topics should be informative to your potential customer base — home buyers and sellers. Consider forming "personas" for your target clients to help narrow down who they are, what they like, and what kind of content will be most useful.
For example, if you work with first-time buyers often, you might want to focus on topics like home mortgage rates, home inspections, closing processes, and other introductory components of the home buying process. If you work with commercial investors, your topics will likely be focused on different information.
Your Blog As Marketing Tool
You're likely familiar with search engine optimization (SEO), which is when your content is optimized to help users find it when they search the web. This can be helpful for real estate agents, but because you are likely focused on just one location or area, should be more specific. For example, your content should include your city or the neighborhoods you work within so that people who are most likely to use your services are the ones that find you.
Also remember that your blog posts are great content to share on social media. When they are informative and helpful, they will be more likely to get shared and to build up your name as a trusted voice in the industry.
Pay Attention To The Details
Your blog is going to be what helps convince buyers and sellers to work with you, so you want it to reflect your professionalism and work practices. Make sure you've checked spelling and typos, and if you do use keywords, place them strategically so your blog posts read like a human wrote them. Readability is key, so keep sentences and paragraphs short and to the point.
Images are also important to blogs — they help break up the space between text and draw readers in immediately. Choose images that reflect your personality, topic, and knowledge, and that will be most likely to resonate with your customers. Remember to use images that are in the public domain or free of copyright to avoid legal issues.
Your real estate blog can also be an excellent way to connect your clients with the other services and professionals they will need when buying and selling a home. Have them answer a few questions here and a home lending expert will contact them to get started.