You've been scoping out neighborhoods on your drive to work, and you've decided that it's time to start seriously looking for your first home. Before you fall in love with something, it's important to understand how you're going to pay for it.
For first-time homebuyers, knowing what to expect when shopping around for home mortgages can help you find the right financing option. Since you'll likely have your mortgage for quite a few years, it's important that you don't get yourself in a situation that isn't sustainable. If now is your time to buy, make sure you are prepared to consider these four things while shopping for home mortgages.
1. Interest Rates
When it comes to shopping for a mortgage, you can't ignore interest rates. Interest rates can be thought of as the fee you pay for the ability to borrow money, and your home mortgage rates will ultimately be determined by your financial picture. Keep in mind that you may need to pay additional fees for loan origination, points at closing, and private mortgage insurance (PMI).
2. Mortgage Terms
Not all home mortgages are created equal, so you want to be sure to get the terms that work best for you. Your credit score and application material will be your main bargaining point for negotiating the right loan terms.
Fixed vs. Variable: When it comes to your interest rates, you'll likely either have a loan with a fixed rate – one that stays the same for the life of your loan – or a loan with a variable (or adjustable) rate, which will change according to outside market factors. There is an obvious benefit to the stability of fixed-rate loans in that you'll never have to worry about your rate and payments changing. However, variable rate loans also have their benefits, particularly for buyers who don't plan on holding the property for more than the short-term.
15 vs. 30 Year: You also have options for loan terms when it comes to the length of the loan. The most common loan terms are 15 and 30 years, and each has a benefit depending on the other aspects of the loan you decide on.
3. Lender Reputation
Your mortgage is a long-term partnership of sorts with your lender, so make sure you are working with someone trustworthy. Does the lender have a good reputation in the local area you are buying in, or are they a giant national enterprise? If you know that you like to handle your contact on the phone with a real person, you'll want to find a lender that can give you that option.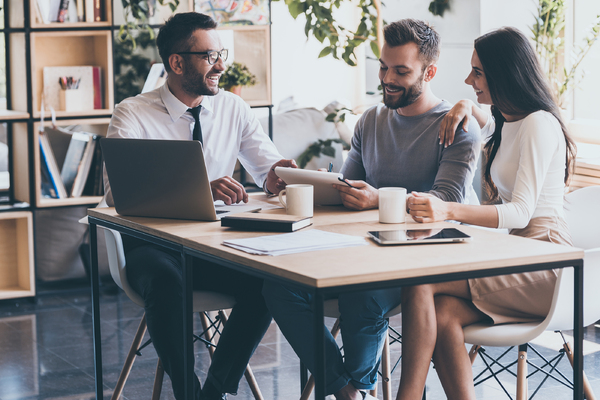 Be prepared for what to expect when it comes time to shop for a loan.
4. Available Mortgage Options
When you're speaking with or looking into lenders, be sure to see what types of mortgages they offer, as there are federally subsidized loan types available for a range of qualifying demographics.
FHA Loans: Many first-time homebuyers look towards FHA loans to help them make their purchase, as these loans are insured by the government, which means that lenders can offer them to buyers with reduced down payments and other attractive benefits. With a great credit score and financial picture, you may only need a down payment of 3.5% – a major difference from paying 10-20% with other loan types.
Standard or Conventional Loans: Conventional loans are those offered direct to borrowers and are not tied into government or other programs. When you obtain conventional loans, you'll need to pay for PMI, so the lender is protected in the case of default.
Construction Loans: If you've decided that building your dream home is the right choice, you can obtain financing meant to help cover the building costs and the long-term mortgage.
Once you have an idea of your financial picture and the type of loan that will work for you, it's time to get preapproved, so you know just how much you are qualified to spend. Answer a few questions here, and a home lending expert will contact you with available loan programs.